Mykronoz- Zetime
About 10 days ago the postman delivered a Mykronoz Zetime watch.  It was well packaged and impressively presented.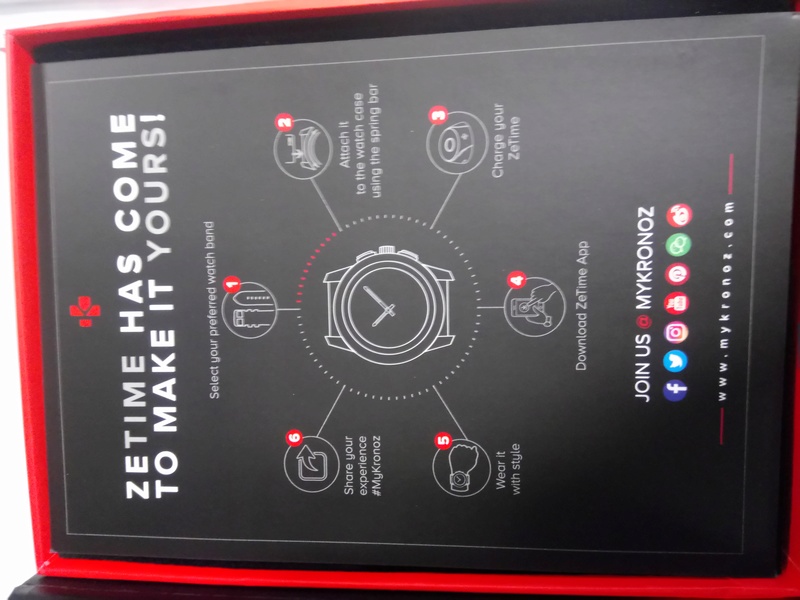 Sorry about this picture being so blurry, was rushing around
According to the Mykronoz website, this is meant to be "the world's first hybrid smart watch combining mechanical hands with a round colour touchscreen.
It has two batteries, one for the smartwatch functions and digital screen, and one for the mechanical hands. Most smart watches don't display the time because with a digital screen, the battery life would reduce too greatly. However the Zetime utilises normal watch hands to permanently display the time which do not impact on the smartwatch battery life. The battery life for the mechanical hands is estimated to be about 30 days. You can completely switch the smartwatch off and the hands will run independently.
Mykronoz state their smartwatch battery charge will last about 2 days. This isn't true from experiences. Luckily it seems to be a lot more! The battery easily seems to last for last 3 or 4 days and only takes about half an hour to charge. I'm quite impressed with the charger too. Because you can charge the charger, which means the charger doesn't need to be plugged in when charging the watch, thus meaning you can charge the watch anywhere without need for cables or a power supply.
The standard charger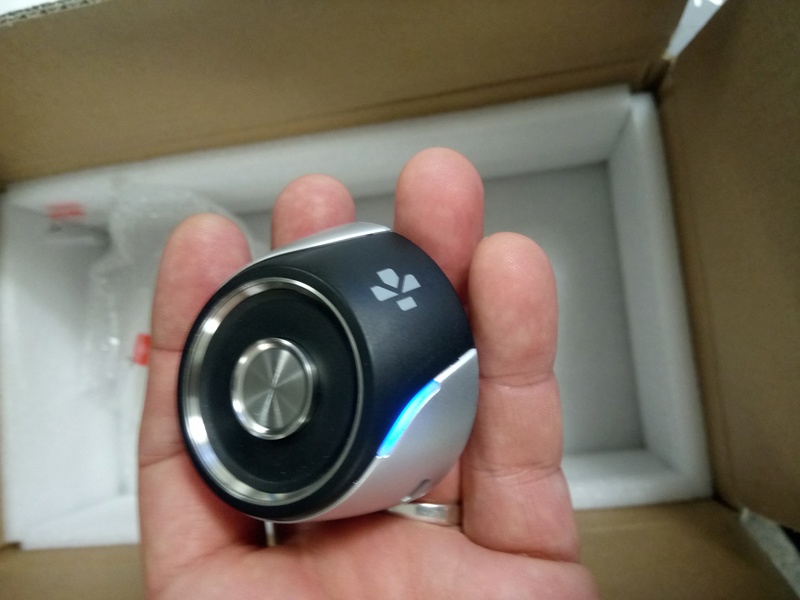 The fancy, but not working charger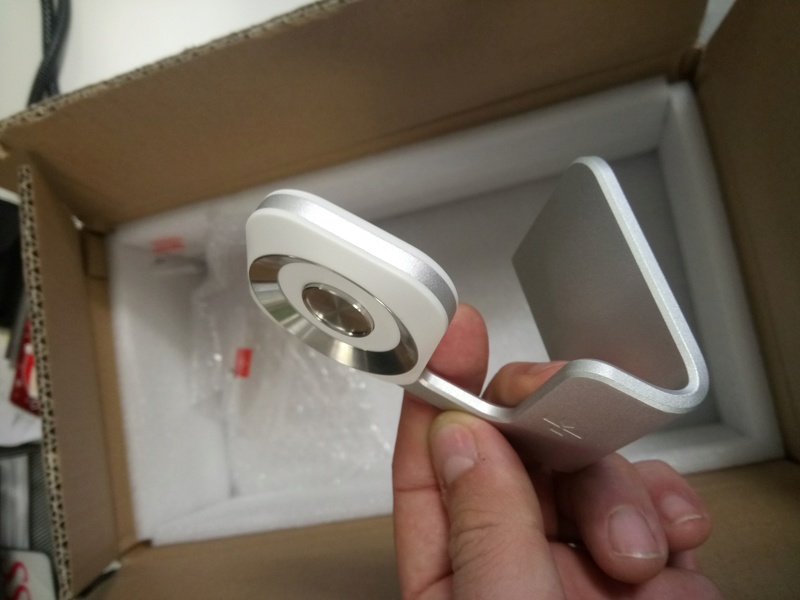 The outer watch case measures 44mm excluding the crown, 48 mm from lug to lug, it's 12.8mm high from the wrist and takes a 22mm strap. This is large without being a dinner plate, I suppose in size it's not a great deal different to the dimensions of a modern divers watch. They also now do a smaller 39mm version of the watch but because I possess fat fingers, I thought I'd stick with the larger screen.
I opted for the polished stainless steel case, though you are able to chose from brushed steel, brushed black, brush pink gold, brushed yellow gold or brushed titanium.  The large crown and two fairly prominent pushers are also in stainless steel on my model.  The the overall appearance of the watch is quite understated though equally grandiose, like a large minimalistic chronograph that has a black jet dial and no sub dials.  This type of appearance in a smart watch was something I was looking for, being a big fan of dress watches and chronographs.  If you like traditional mechanical watches, the aesthetics of the Zetime will hold an appeal with you.  Unlike the more androgynous well established digital smart watches, this is unquestionably a masculine watch.
Here is the watch itself
They have quite a large variety of straps you can chose from to accompany your watch.  My watch came with three, a black silicon strap which I haven't used yet though it looks half decent, a black carbon strap with red stitching which is so comfortable I've barely taken it off , and a stainless steel bracelet. I've only worn the bracelet once or twice though the watch definitely looks best with a bracelet. One aspect I quite like is that you can fit your own straps and bracelets to the watch, many smart watches have unusual shapes which do not allow for your own choice of band.
The spare silicon strap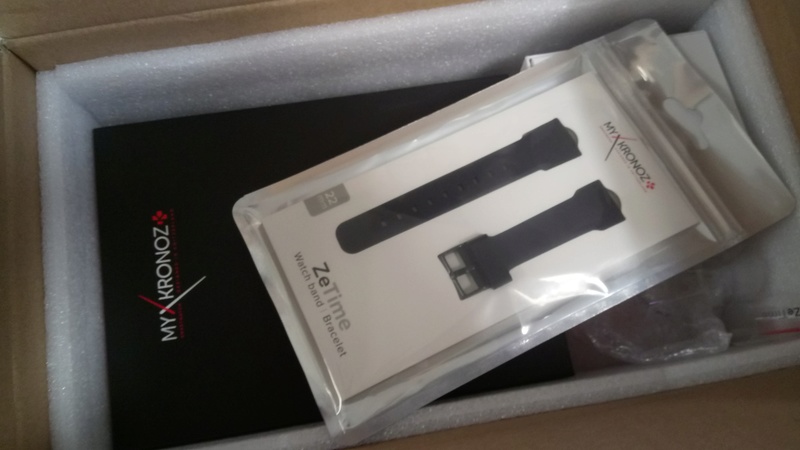 And with the stainless steel bracelet.
I'm trying not to write a biased review about the watch but it's hard not to drool a bit over it's impressive looks. It's sleek, and the simple, matching combination of a SS case, SS crown & pushers, SS bezel, SS chapter ring and hands offset against a completely black dial give it a modern though impressively classic look.
In terms of the watch functionality, the worst case scenario is that I own a fancy looking Quartz watch. However, one push of the top pusher opens an intriguing new world of smart watch applications.
The home screen
You can have the watch set to open with the flick of a wrist though I had to turn this off because I found it annoying. Whenever I shook my hand, it wasn't turning on. I would be sitting around looking like I had an invisible pair of maracas in my hands and nothing would happen, then the second I raised my hand to do something far more innocuous it would light up. Also, when you first get the watch, you have to use it in connection with the Zetime app on your phone. Your first job is to calibrate the watch hands, which I found to be a bit of a bugger to do, however, after a bit of fiddling around, it is all working fine. The hands even went back an hour by themselves when he clocks went back on Sunday.
So, when you use the smart watch you can change the dial to one of their dozen or so dials. There's a good selection to chose from though I quite like the fact you can create your own dial and download it via your phone.
Here's a timely hallowe'en dial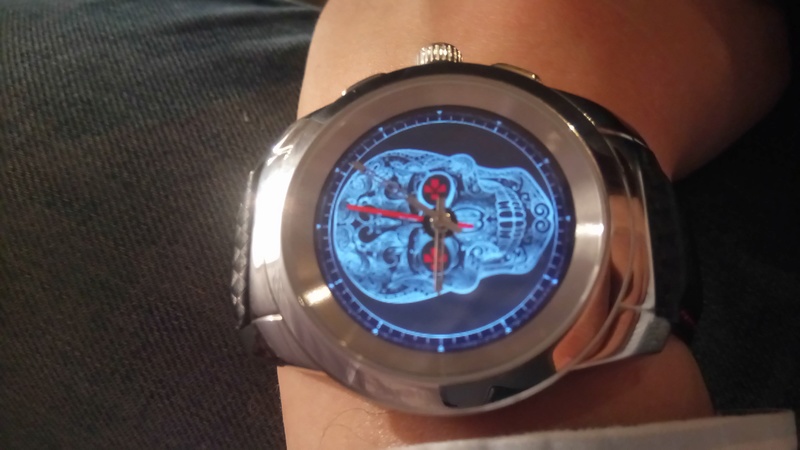 I won't go through all the smart phone features, just a sample of them. It's got a heart rate monitor which tracks your heart rate every 5 mins. I guess doing it at 5 min intervals saves a lot of battery use though if your used to a fitbit, Garmin, Samsung Gear or Applewatch, you're probably expecting more. I get alerts to tell me about emails and whatsapp messages. You can't read the email, it just says you've had one, similarly with whatsapp notifications though you can read a limited amount of the text. I get text message notifications, though you can also read the text message which is useful. When you read a text message the hands move into the 3 and 9 position so they don't get in the way of the text message, very clever stuff...
The watch vibrates when there's an incoming call, which is great as I can now leave my phone on silent and still don't miss any calls, pretty useful when I'm in work.  There is no capability of answering the call, though Mykronoz made it abundantly clear all along they wouldn't give the watch this function as they wanted it to be water resistant instead. To be fair to Mykronoz, rather than using an IP rating which is all the trend with smart appliances but doesn't mean much to most of us, they have given the watch a water resistance rating of 5 atm, something a watch fanatic can relate to a bit more! So yes, I can take it swimming!
It has a pedometer, calorie burning counter, activity tracker, something telling you how many miles you've walked and a sleep monitor. All of which record data you can see in more detail via the smartphone app. I have no previous smart watch experience to which I can compare these functions with though they all seem to work relatively well if a little fiddly at times.  The watch has a calendar which to be honest is useless and it also has a music app so you can use the the watch to control the music on your phone. Unfortunately, having no music on my phone means I can't verify this function. One function you have to love is the left hand function. If you want to have the watch on your right hand and have the crown facing to your wrist it will flip the screen the right way round for you and reposition the hands. It has some good gizmos and whilst not bad at all, I have a sneaking suspicion Apple watches and Samsung Gears may be a little more intuitive.
Here are some pictures of how the different functions display on the dial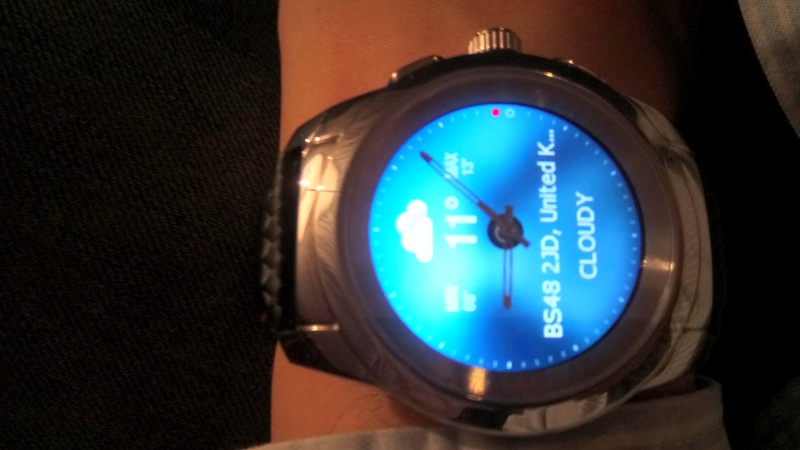 I find the smart watch side of the watch to be OK though not perfect by any means, and a little glitchy sometimes though it is worth me saying my phone isn't meant to be compatible with the watch so in Mykronoz's defence it may work better with a phone they support. The more time I've had it on, the easier I'm finding it to operate. It is enjoyable to wear.
I backed them as a crowdfunding project through Kickstarter on 6th of April and they originally had an estimated delivery date of September. The watch arrived on October 20th, which for a Kickstarter project is fairly good. I found Mykronoz to be transparent and good with their communications. They are getting some negative comments, mainly surrounding the delivery but I do suspect this is the few as they did send about 23,000 parcels to dozens of countries around the world. My experiences with Mykronoz have been very positive. All things considered, they've made a highly attractive, innovative watch at a budget price. I paid €174 for the watch, 3 straps and 2 chargers, still less than servicing a Rolex! I would definitely buy the watch again as it suits me quite well, though I say that as someone who is not fully engaged with modern ways of thinking, i.e. I'm not on Facebook, don't use GPS to track what I've had for breakfast and I still use CDs.  This watch suits me, perhaps it wouldn't suit others so well so it definitely pays to do your research and take time to fully understand what you're buying. It does have some little software type gripes, nothing I can't live with and the beauty of software gripes are that they can be sorted with an update or two.
If I had tested it for a week or two before choosing whether to buy the watch I would have still bought it, which speaks volumes about the watch. It is also one of my few watches with a real wow factor, I've had a couple of people ask me where they can buy one from. It might be be a bit of a marmite watch for real watch enthusiasts but it may have found a bridge between traditional watch making and smart technology.
Thanks for taking the time to read my review.