September 2018
| Mon | Tue | Wed | Thu | Fri | Sat | Sun |
| --- | --- | --- | --- | --- | --- | --- |
| | | | | | 1 | 2 |
| 3 | 4 | 5 | 6 | 7 | 8 | 9 |
| 10 | 11 | 12 | 13 | 14 | 15 | 16 |
| 17 | 18 | 19 | 20 | 21 | 22 | 23 |
| 24 | 25 | 26 | 27 | 28 | 29 | 30 |
Calendar

New arrival

Daz




Posts

: 160


Join date

: 2017-04-18

Not tried a turtle and it was nagging at me so here it is

SeikoJohn

Admin




Posts

: 2525


Join date

: 2016-09-19


Age

: 46


Location

: Middlesbrough

@Daz

wrote:Not tried a turtle and it was nagging at me so here it is
think you may have forgot the photo Daz


_________________
"A man with one watch knows what time it is; a man with two watches is never quite sure." - Lee Segall

Daz




Posts

: 160


Join date

: 2017-04-18


SeikoJohn

Admin




Posts

: 2525


Join date

: 2016-09-19


Age

: 46


Location

: Middlesbrough

I do like the style and shape of a turtle case it just looks as if it sits right on the wrist . Is the bezel insert a dark blue colour or is it just the light on the photo if it is blue it certainly suits the watch .
_________________
"A man with one watch knows what time it is; a man with two watches is never quite sure." - Lee Segall

Daz




Posts

: 160


Join date

: 2017-04-18

Yes it is blue, the same as the dial and chapter ring.

I did wonder if it would be to be, but no it wears smaller than I thought

Robti




Posts

: 491


Join date

: 2017-04-19


Age

: 54


Location

: Hamilton

Looks nice what's your wrist size for comparison?

Daz




Posts

: 160


Join date

: 2017-04-18

Don't know.

I have thought about measuring it but now I have a reason.

7 1/4 inch

Iceblue

Admin




Posts

: 1065


Join date

: 2016-10-19


Age

: 43


Location

: Bedfordshire

Very nice indeed I'm going through a blue faze so this gets a massive thumbs up from me

Daz




Posts

: 160


Join date

: 2017-04-18

I have more blue than anything, I love a nice blue watch and you guys have some crackers

domecurb

Admin




Posts

: 3068


Join date

: 2016-09-18


Location

: Scotland

very nice and a lot better than the clown looking "PADI" things that were getting pushed

my foriegn cousin says hi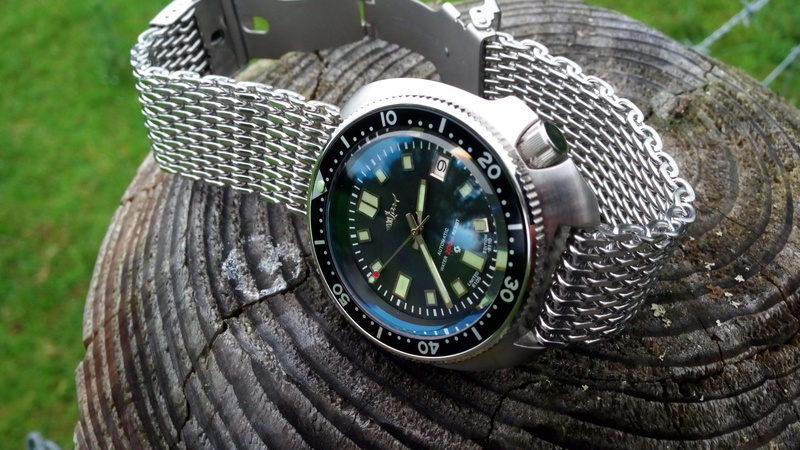 _________________
"treat others how you would like to be treated yourself and you wont go far wrong" - Me

"itsabrawbrichtmoonlichtnichtthenicht" - R.Burns

Robti




Posts

: 491


Join date

: 2017-04-19


Age

: 54


Location

: Hamilton

@domecurb

wrote:very nice and a lot better than the clown looking "PADI" things that were getting pushed

my foriegn cousin says hi  
That mesh just makes that,beautiful

domecurb

Admin




Posts

: 3068


Join date

: 2016-09-18


Location

: Scotland

_________________
"treat others how you would like to be treated yourself and you wont go far wrong" - Me

"itsabrawbrichtmoonlichtnichtthenicht" - R.Burns