on Mon Aug 28 2017, 17:35
My dark Italian Beauty arrived today in the form of the Mondia GP 026 RS
it is said that beauty is in the eye of the beholder and beauty is only skin deep......
well i think it is beautifull and it certainly extends more than skin deep IMO
This is an Italian Designed 100% Swiss made Chronograph and i think it shows its Italian roots well.
it is NOS and is a "Special Edition"
the case is 45mm wide and 15.5mm thick
it has a domed 4.5mm thick AR coated sapphire crystal [ which is awful to photograph]
the lugs are 22mm and obviously its a "Bull Head"
the bull head configuration is not really that common, but actually make a lot of sense for a chronograph as you can operate the pushers regardless of which wrist the watch is on with out obscuring the dial
the rotating bezel and chrono pushers are black PVD coated and the case is stainless steel
the dial and case back insert are real Carbon Fibre to help complete the race track look
there are 7 hands........3 subdial hands and 4 center hands.
the subdial at 11 is 10th's of a second
the subdial at 7 is 12 hours
the subdial at 3 is running seconds
center hands consist of standard hours and minutes with blue tips followed by the blue chronograph minutes, hidden until used by the the yellow chronograph seconds hand.
why i describe this watch as being beautiful under the skin is down to the movement: ETA 251.262
this movement IMO is probably the best quartz chronograph available today, it has 5 stepper motors, 5 coils and 27 jewels, it is servicable and repairable [ parts available] the ETA 251.262 is fitted to all the best makes like Tag Heur, Brietling, Omega etc.
the watch comes with the already fitted pastel blue soft rubber strap which matches the dial and has a spare blackleather rally strap in the box too, it will probably be fitted on a stainless mesh though.
too me the watch is almost jewel like with the sapphire giving off a blue tinge from the AR coating, the pale pastel blue, black and yellow all work well to make a stylish but not over the top timepiece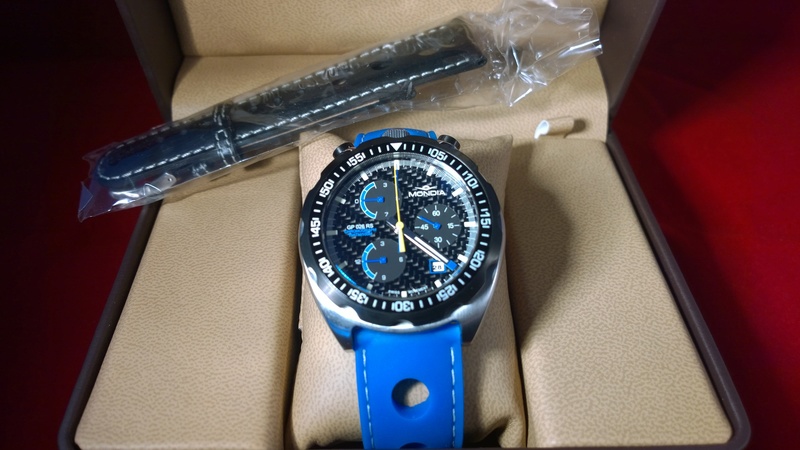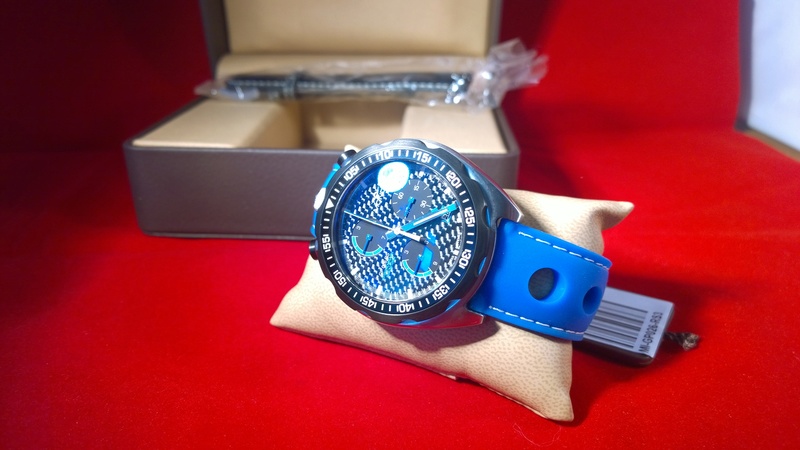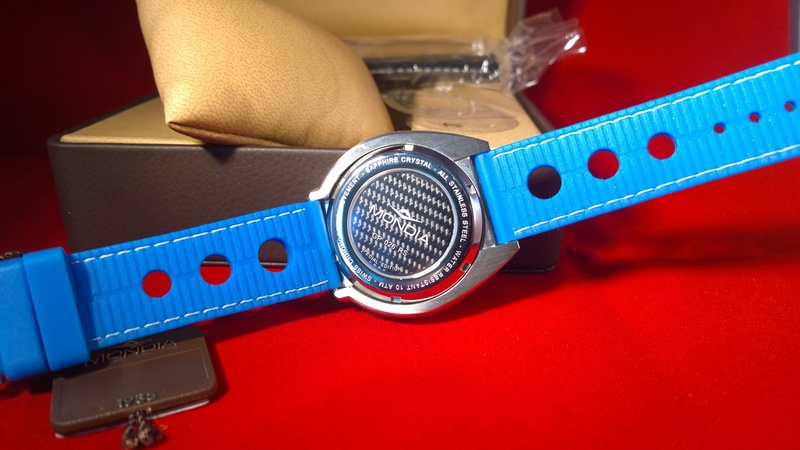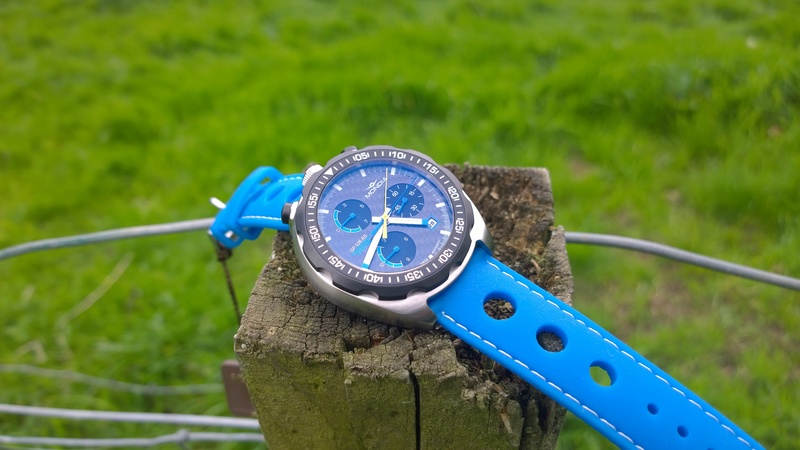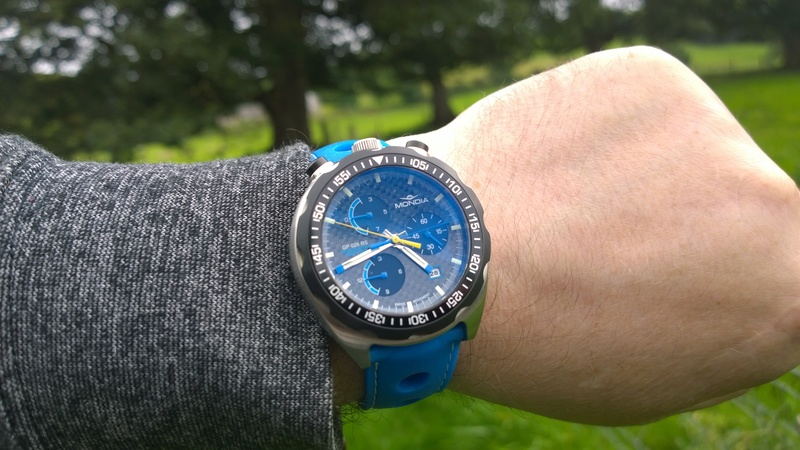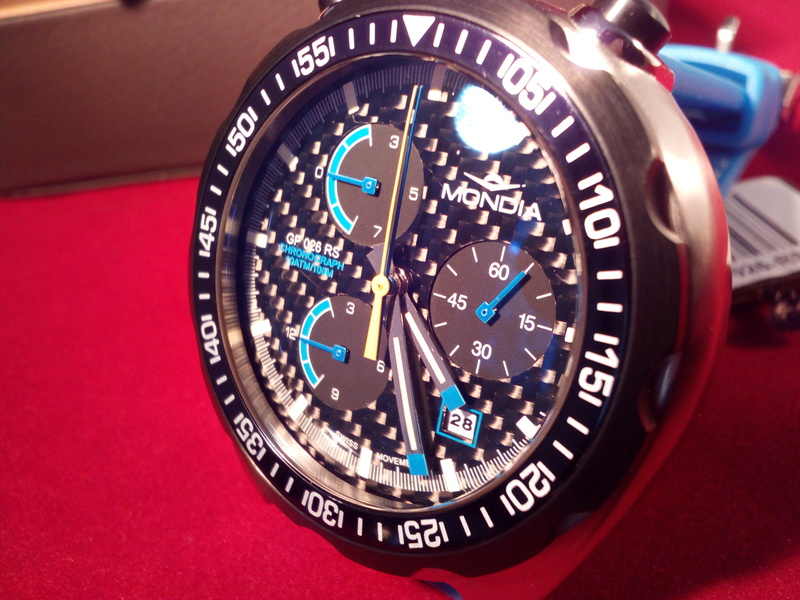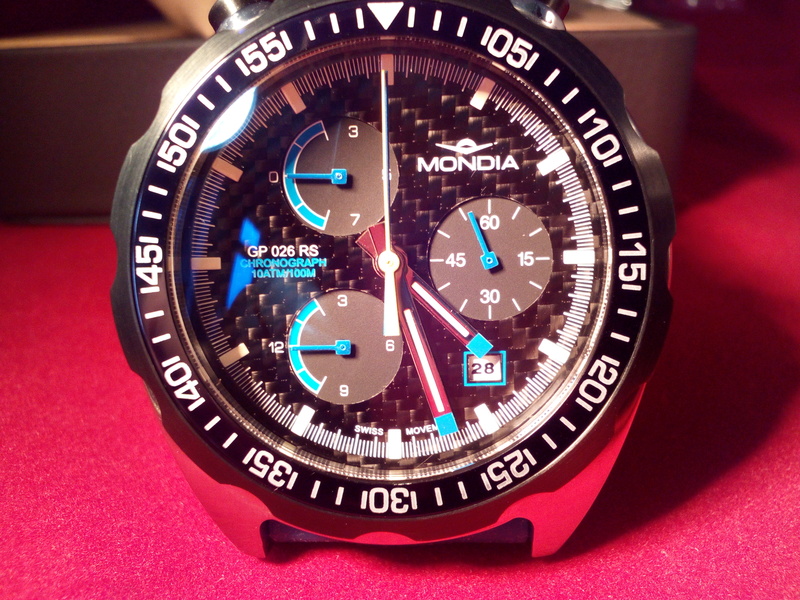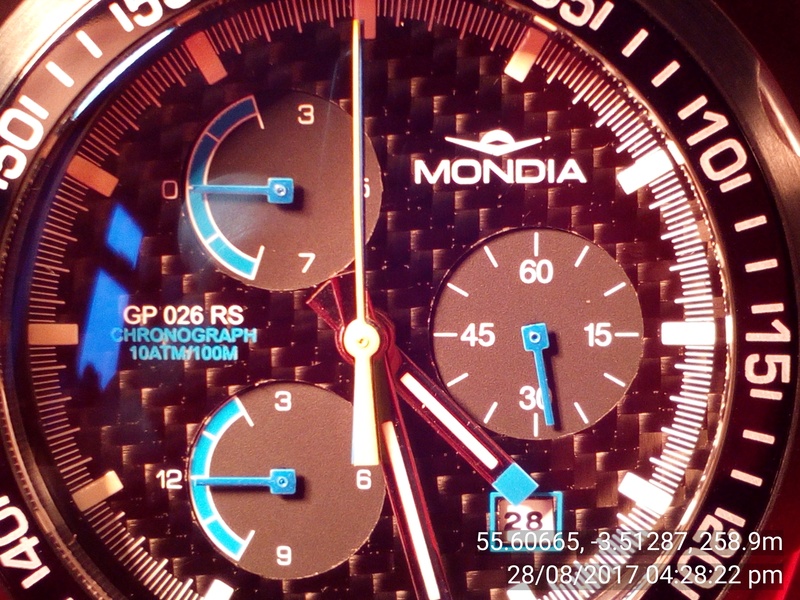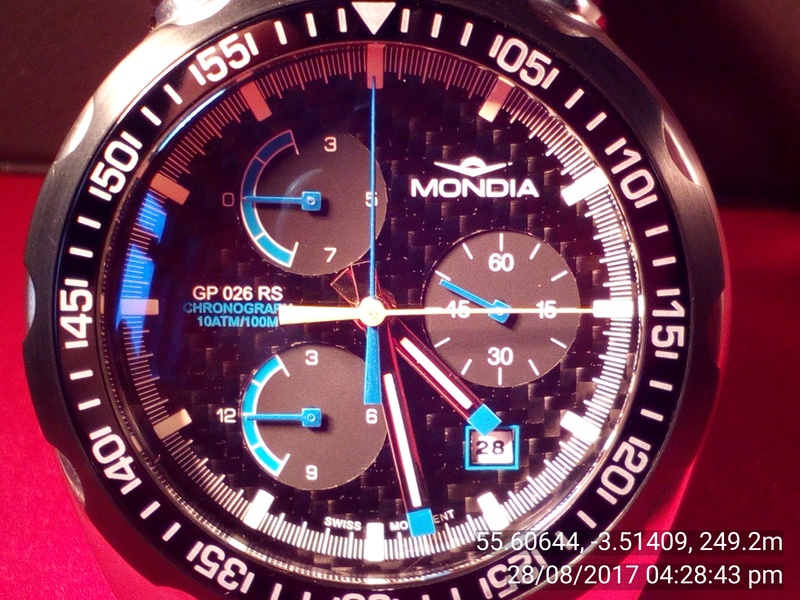 Mondia are now part of the Zenith group and in my opinion this watch is worthy of the association
[shamlessly copied and admited too but not plagerised  

]
Thanks to the constant models updating, the use of noble materials manufactured with the finest technical and stylistic care of detail, Mondia reaches an increasingly significant role in the Italian market, role that become more and more important until the inclusion of the company in 1970, inside Zenith orbit, where it becomes the reference brand for the mid-market segment.
Mondia, thanks to its creativity and to the excellent quality/price ratio quickly conquest a very large number of customers. Starting from 2001 Mondia is distributed worldwide by Mondia Italy, an Italian company, made up of experts who have long experience in watch industry.
_________________
"treat others how you would like to be treated yourself and you wont go far wrong" - Me

"itsabrawbrichtmoonlichtnichtthenicht" - R.Burns
SeikoJohn

Admin


Posts

: 2381


Join date

: 2016-09-19


Age

: 46


Location

: Middlesbrough

on Mon Aug 28 2017, 17:43
Wow that is impressive I think the use of carbon fibre on the dial makes it really stand out so too does the choice of hand colours. Having the pushers at the top is different am I right in thinking this style is a bull head style ?
The only thing that puts me off is the bezel I just don't like it , it probably looks better in the flesh I would have preferred a stainless style bezel with black insert but this is just my humble opinion.
All in all a very impressive watch as you say both outside an in due to the movement.
_________________
"A man with one watch knows what time it is; a man with two watches is never quite sure." - Lee Segall
Iceblue

Admin


Posts

: 983


Join date

: 2016-10-19


Age

: 43


Location

: Bedfordshire

on Mon Aug 28 2017, 18:43
I really like like mate it's a peach  off a watch and as I am going through a bit of a blue stage it's lovely and to be fair with the mondia and the zenith name behind it it make it a very well price lovely watch , the black bezel and blues trap suits it and the bull head pushers and crown make it very desirable nice catch
daff62

FULL MEMBER


Posts

: 1589


Join date

: 2016-09-26

on Mon Aug 28 2017, 23:37
An impressive looking watch. I like the bold colours and the carbon fibre dial. Slightly too busy possibly for me to quickly tell the time but that's just my eyesight. The hour & minute hand seem to be different colours in the pictures though that may simply be down to the light. While you are likely to use a mesh bracelet the blue rubber one, albeit quite bright, really compliments and works well with the watch. You must be chuffed with another fantastic watch to add to your collection.


Permissions in this forum:
You
cannot
reply to topics in this forum