daff62

FULL MEMBER


Posts

: 1640


Join date

: 2016-09-26

on Tue Mar 21 2017, 19:11
.....with my interest this year in LED watches bought this fully working one of eBay...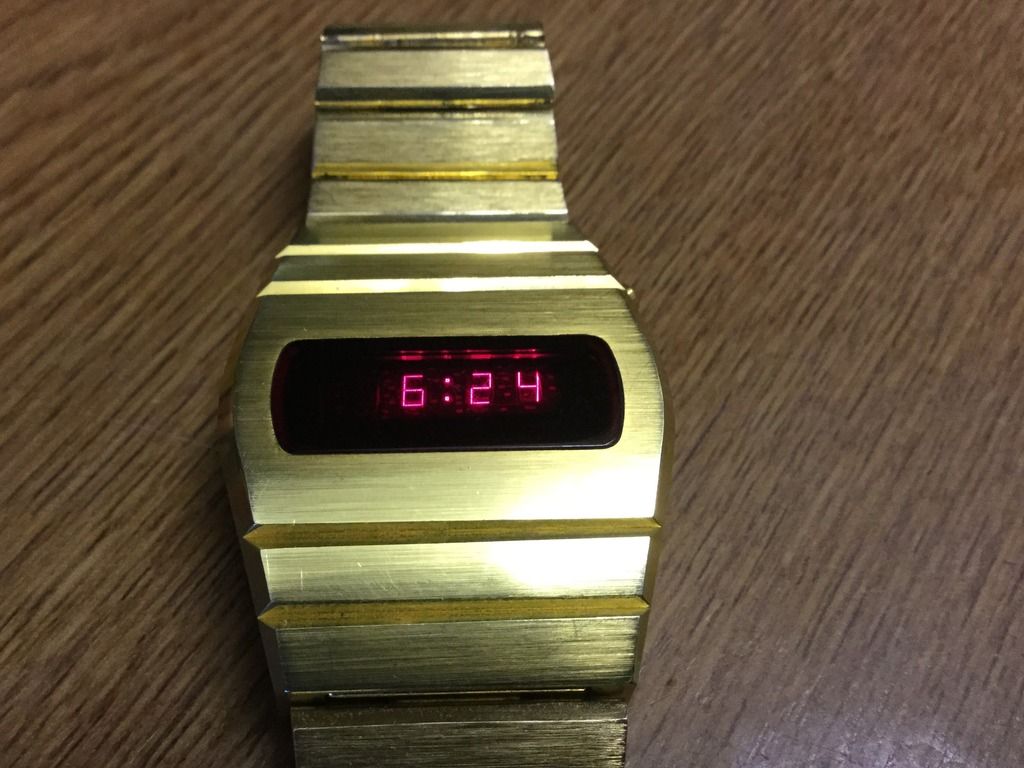 " />
.....it arrived and......didn't work.

 A couple of hours later it started to work & all seemed fine.
Yesterday I checked the watch & it didn't work. I fitted new batteries but still no joy but with some perserverance it started to work again.
It's been working fine today but I was still puzzled why the display isn't centred in the window. I carefully moved the module while making sure the push buttons were still positioned correctly for the contacts and.......it stopped working.  

Here's a picture of the module, which isn't very enlightening. I did wonder why there are three contact points but only two buttons on the case.  

" />
I have now got it going again but can't decide what to do. I really like the watch but don't know if this erratic behaviour is an indication it is about to fail completely so it would be better to return it asap.  

Any thoughts welcome guys.  

SeikoJohn

Admin


Posts

: 2448


Join date

: 2016-09-19


Age

: 46


Location

: Middlesbrough

on Tue Mar 21 2017, 19:53
It is a gold watch of course you return it and never buy gold again ...

In all serious though I would say if stated as a fully working watch then return it as it clearly has issues . BUT maybe those issues could be fixed and if so I would then be asking for a partial refund and keep the watch .
Sorry I can not help with advice on how to fix it though
_________________
"A man with one watch knows what time it is; a man with two watches is never quite sure." - Lee Segall
Iceblue

Admin


Posts

: 1001


Join date

: 2016-10-19


Age

: 43


Location

: Bedfordshire

on Tue Mar 21 2017, 20:31
If it's a rare watch and not going to see another for a long while and at a price that was a great bargain it may be worth sending it to someone who specialises in them , if it's non of the above may be worth a chat with the seller and being honist saying I like it but it's not what was promised you may get a part refund , or return for a full refund a few option hope it pans out what ever you decide to do
on Tue Mar 21 2017, 20:45
in the picture one cell looks to be leaking plus the whole movement in general looks as if it needs a clean
and i think you will find its a module from a different watch hence the unused contact and the readout in the wrong place, it is probably cobbled together, personaly i would go for a refund....just from the point of view that it will never fuction properly as you cant access the third contact

PS, the cells are cheap chinese ones, not only do they leak while still in charge but they probably dont supply the correct voltage
daff62

FULL MEMBER


Posts

: 1640


Join date

: 2016-09-26

on Tue Mar 21 2017, 21:24
Thanks for all the advice everyone.
I wondered about the movement not being original to the case. Looking online though I found a number of LED watches with the same "off centre" displays as well as having a third unused contact.
I thought possibly these modules were made so that they could be used in cases that had either two or three push buttons. That said, possibly they may have also been "made up".

This module displays the time with one push and the day and date with two pushes. If the button is kept pressed you get the time followed by the seconds. The setting process also works as it should.
A partial refund would have been an option though probably just me trying to quantify holding onto the watch which I really like which isn't sensible. The seller, albeit the listed period for returns has passed, has said he would still accept it back which is appreciated. Hopefully he won't change his mind.
It may be disappointing now but not as disappointing if the watch just stopped working and couldn't be repaired.

Thanks again all for the feedback, it's appreciated.


Permissions in this forum:
You
cannot
reply to topics in this forum