daff62

FULL MEMBER


Posts

: 1346


Join date

: 2016-09-26

on Fri Dec 02 2016, 17:47
The title does sound quite modern and suitable for a nice large & chunky wrist watch..............but alas it isn't.
The T17, designed by Charles Perregaux, was introduced by Omega in 1934.
This watch is from the 1930s & is a typical size for the era at 20mm by 37mm.
" />
While the Omega name has faded on the dial the numerals etc are still very clear. Apparently the silvered dial plate was engraved for hours, minutes and second tracking, black enamel paint was added and it was finished in a special kiln to a very high quality.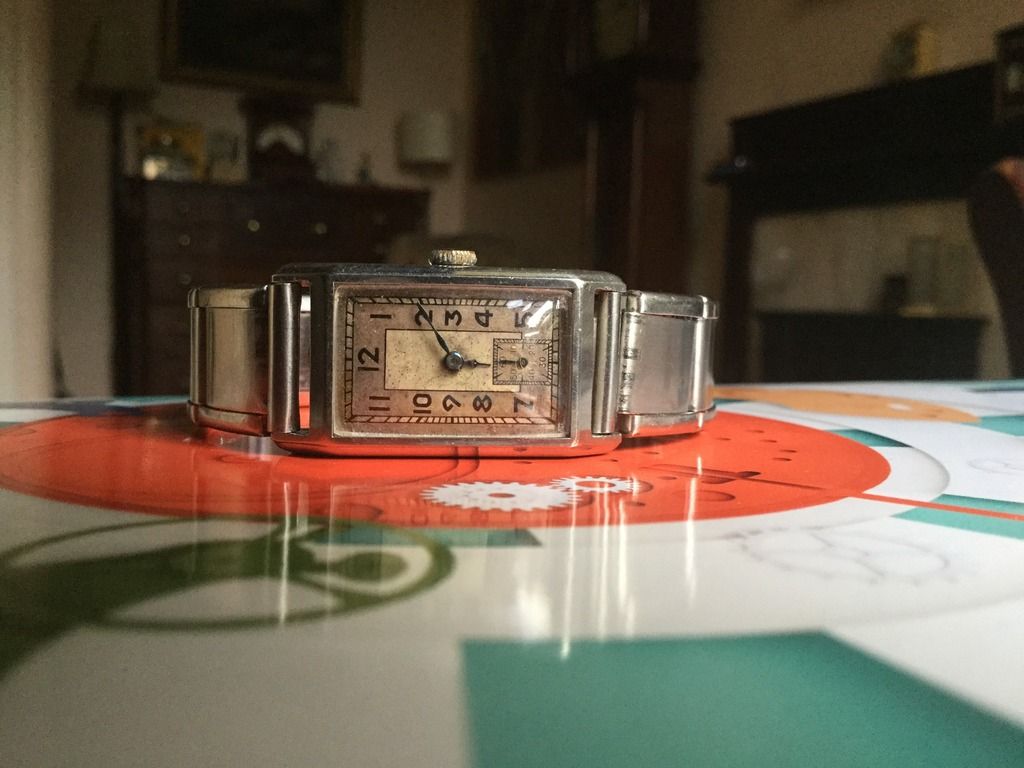 " />
While it has a typical deco rectangular shape the movement is tonneau shaped.
" />
It has a rather unusual design with a dust cover to protect the movement. Rather considerately there are instructions in French to instruct the watchmaker how to remove it.
Basically the screw has to be partially unscrewed and the crown taken out with its stem before the cover can be removed.
I found this image online showing the 15 Jewel movement. It would have been a recipe for disaster if I had tried to remove the cover.  

" />
Here is another T17 I have.
This one has a lovely charcoal dial with applied numerals.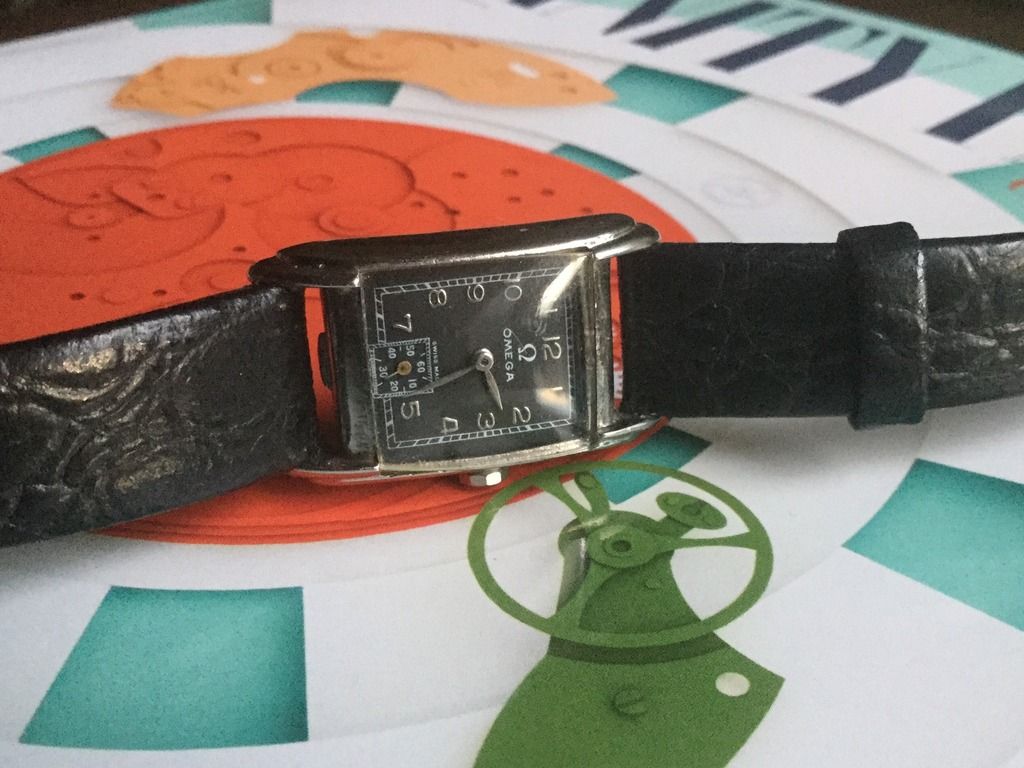 " />
The case is also small width wise at 20mm but is balanced length wise with the long rounded lugs.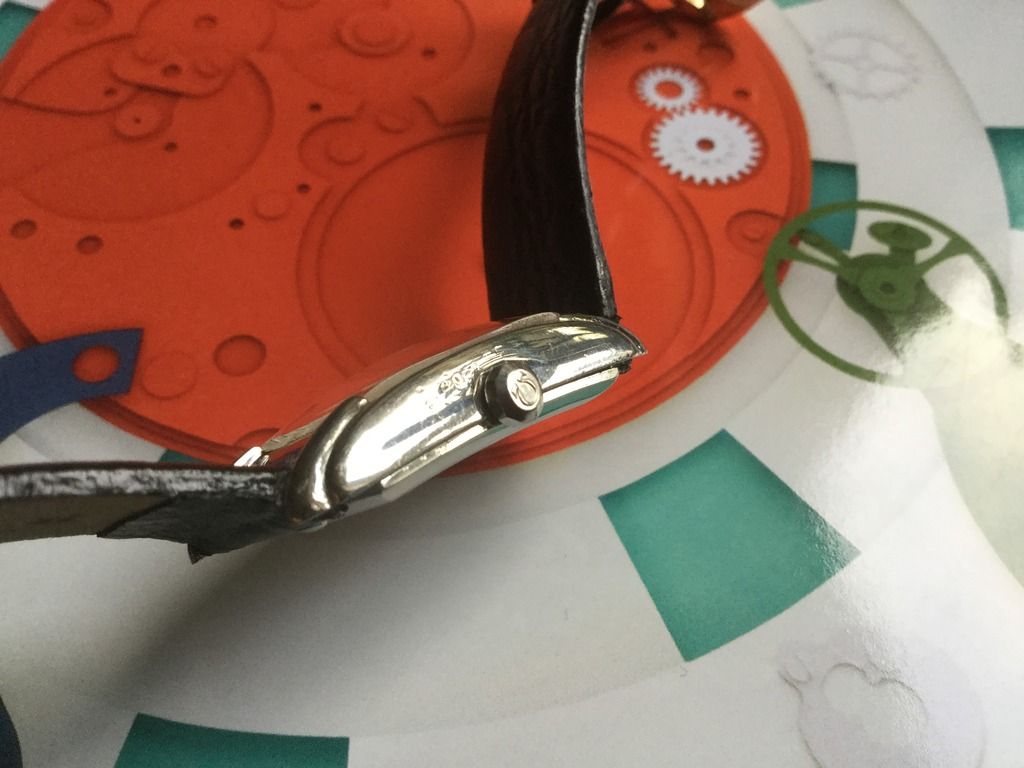 " />
and wears bigger on the wrist, well to my vintage tastes anyway.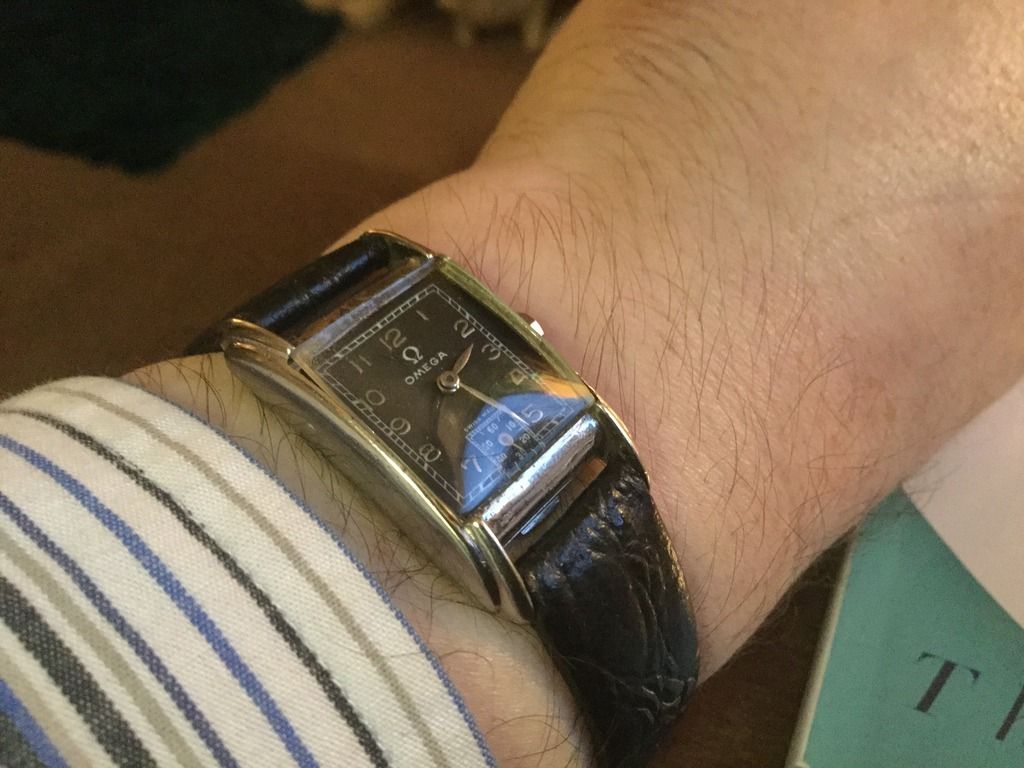 " />
The T17s special feature though was it had a 60 hour power reserve. This was achieved by an enlarged barrel which rotated slower & a gearing ratio that allowed a considerable increase of the duration of the run (thanks to google for that explanation).  

It proved popular and successful being produced in more than 167,000 pieces up to 1943.
This was the longest power reserve of any Omega calibres until they introduced the 8500 in 2006. Not a bad record / achievement for a movement to keep for 72 years.
I thought after seeing the newsletter I would try & do some research to put together a few details / facts to attempt a review of sorts. I hope it's of some interest.

SeikoJohn

Admin


Posts

: 2007


Join date

: 2016-09-19


Age

: 45


Location

: Middlesbrough

on Fri Dec 02 2016, 20:49
I really enjoyed reading your write up thankyou , you have some beautiful watches in your collection but the two T17's are little beauties especially the first one it has such a look to it and I like how the Omega logo has faded . thank you for sharing

_________________
"A man with one watch knows what time it is; a man with two watches is never quite sure." - Lee Segall
on Fri Dec 02 2016, 22:42
excellent watches David from my favourite era....the thirties a time of style, design and quality as shown in your watches, unfortunately cut short by WW2
daff62

FULL MEMBER


Posts

: 1346


Join date

: 2016-09-26

on Sat Dec 03 2016, 10:56
Thanks guys, glad you liked the review.
I enjoyed doing it & learnt more about the watches when I was doing the research which is great.

Iceblue

Admin


Posts

: 857


Join date

: 2016-10-19


Age

: 42


Location

: Bedfordshire

on Sat Dec 03 2016, 16:05
Very nice and glad to see something different from the normal omega,s.

Very much styled on the 1930s era sort of Art Deco in design , what are the time keeping like on these being vintage mechanicals

You have two in that design did they make any further variation or just the light and dark dial
daff62

FULL MEMBER


Posts

: 1346


Join date

: 2016-09-26

on Sat Dec 03 2016, 17:25
Hi,
Thank you.  
They are relatively efficient with time keeping being within a minute or so a day. Possibly "efficient" isn't the right word though seems appropriate at least for watches of their age.  

Dials for these or other watches in general were more usually in neutral colours so cream, Ivory, shades of gray etc. They could though have variances of patterns applied like these examples....
" />
" />
Permissions in this forum:
You
cannot
reply to topics in this forum