I have never really thought of myself as a gambler, i dont even do the weekly lottery

horses or any other sports betting is also a no no, i would not know how to, but its struck me yesterday that i really am a gambler.
The reality is: when buying any second hand watch [ which makes up the majority of my purchases ] we all take a gamble in that someone else's idea of condition and how well a watch works can differ wildly from our own, with this in mind i suppose i take it to the next level in that i really enjoy buying non runners or watches described as spares or repairs, mainly quartz i should add.
I have found, if buying from eBay, good photos are a must as they can tell you more than a written description, when looking at non running quartz time pieces the main thing i look at is the dial and hands, these can show the tell tale signs of a leaking battery or even just a battery that has "gassed out" which is often first thing to happen before the chemicals start to leak, these chemical can be devastating to a watch movement and the dial and hand set so any visible signs like patches on the dial or crumbling lume on the hands is a great indicator of what is happening inside the watch case. i must point out that i have managed to repair probably about 90% of quartz watches that have had a leaking cell so good odds for a gamble

that brings me to my latest arrival, the SEIKO 7T34-6A00 PILOTS CHRONOGRAPH SPORTS 150, the seller had uploaded very good images to his auction page on eBay and the dial and hand set looked really good, the watch was described as for spares but looked so good that even as a non runner it was worth more than the "buy it now" price so i bought it

it arrived yesterday morning and it was better than the photos showed, in fact it looks unworn, the dial and hands are mint condition...so good my heart jumped a bit as i thought there is no way a battery has leaked in side and i was right, with the case back off the movement is spotless which a Seikosha 395 installed, first job was a voltage check on the cell and it read 0.45 volts which was another good sign, the cell was totally exhausted but not to the point where it showed a short within the circuitry which may have indicated a dead short [ not good

] i fitted a new Renata 395 turned the watch over and..........nothing

dead, my hear sank a bit, i took the cell out and checked it and it was also showing a low voltage of 0.9 volts, not enough to run a movement, got another cell checked it and it showed 1.54 volts [ perfect] popped it in to the movement and sprang to life

all subdials working, alarm setting and working, keeping perfect time ........another "gamble" paid off

this 7T34-6A00 dates from October 1990 and is very similar to the 7t32, but has an extra subdial, looked after [ IE no leaking batteries ] these movements are very robust and should run for many many decades without trouble, they can also be stripped for servicing although this is not for the faint hearted

as mentioned, there are 4 subdial .....the one at 12 is chronograph minutes and only runs to 30mins, subdial three is the date, twin handed subdial 6 is alarm setting and doubles as a second time zone as well, subdial at 9 is watch running seconds with the chrono seconds in it proper place in the middle [ green hand ] this runs at 1/20th second.
the dial and hands detail for me sort of mark the end of an era for Seiko watches, the quality is superb, chrono seconds green, subdial hands are white with tiny yellow tips main hands pure matt white which give a great contrast against the matt black dial making this extremely busy dial very easy to read through the gently domed crystal.
the watch measures a modern 43mm wide including the crown and has a 20mm lug gap.
2 crowns, one for the main hands and one for the alarm/ dual time
2 top pushers for the chronograph, bottom left to set the alarm
it has a slide rule bezel for working out fuel use and mileage and speed and loads of stuff thats above my pay grade..........nope......i dont know how to use it, but its cool looking and thats all that matters

this is a watch that i have been after for a long time so to get one so cheap in this condition is rare, but worth the gamble IMO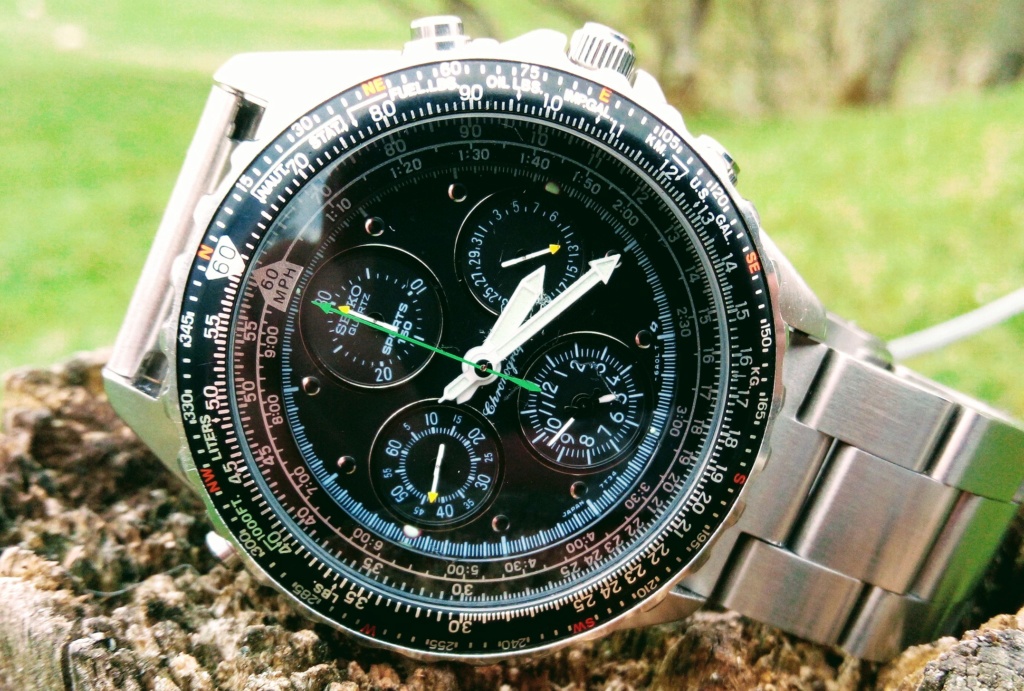 just as a matter of interest, this 2nd image although it looks the similar was taken from about 60 meters away using a 2x teleconverter on a 600mm zoom lense, just an experiment