after a short break from the forum i thought i would start back with today's arrival:
The JIUSKO 76LSB02 Titanium Chronograph
Part Number 76LSB02
Dial Window Material Type synthetic-sapphire
Display Type analog
Clasp Type Stainless Steel Fold-over Deployment Clasp
Case Material Titanium
HEV
Case Diameter 43 millimetres
Case Thickness 16
Band Material Titanium
Band Length mens standard
Band Width 20 millimetres
Band Colour Silver
Dial Colour Black/Orange
Bezel Material Ceramic
Bezel Function Unidirectional
Calendar Date
Special Features Chronograph Tachymeter, 24 Hour Display, Lightweight Titanium Case and Two-Tone Bracelet, Luminous Display with Beautiful Dial Detail
Weight 141 Grams
Movement Quartz Multifunction YM15-9(TMI)
i have been looking at this brand for a couple of years now but the price has always put me off as i didnt want to take the chance i was buying an average Chinese watch, fortunately this one turned up at a very good price and i jumped on it and i am so glad i did as this is no average Chinese watch

its a proper ISO rated 300m dive watch and has its own style so cant be accused of being a Homage, from what i can see all of JIUSKO's watches are pretty much their own designs so quite refreshing IMO.
another attraction for me is the watch makers history, read below and you will see what interested me

...
Jiusko (Jee/****/Ko) is a truly international brand that is proudly manufactured in China. However, the Chinese Watchmakers who have made this brand famous in the East received some help. Jiusko's Watchmakers have been trained by the Swiss, they use precision parts and movement from Japan and service and repairs for Jiusko is managed in the North American headquarters based in New York City.  
Over 10,000 Americans are now sporting Jiusko USA's high-quality timepieces.
Jason Chen, our lead designer mastered his craft while working with Rolex, Patek Philippe, and Piaget.
While working with some of the world's most expensive watch brands, Mr. Chen learned their secrets and became inspired to create affordable watches with the same design principles used by these high-end brands.
With hundreds of designs under his belt, Mr. Chen believes the uncompromising quality offered by Jiusko USA is on par with elite brands where he spent years honing his skills. He has achieved his goal of making watches of elite quality that are reasonably priced.
In 2014, the US branch was established and for the first time, Jiusko brought their famous brand to the USA, to the thrill of many collectors and watch enthusiasts familiar with the Jiusko story.  Prior to this time, Americans who could only purchase the watches overseas.
Beyond world-class designs and quality, Jiusko offers world-class service and assurance out of their New York City headquarters. This includes:
A 5-year movement warranty that is on par with the elite brands Chen learned his craft from
30 day love it or return it with no questions asked and free shipping in the USA
Any movement that does not live up to the Jiusko commitment to quality will be repaired.
Customer Service– Jiusko USA prides itself on high-quality customer service. If you have any questions, contact us at
custservice@jiuskousa.com
a good pedigree and a lot better than a lot of other well known makers out there..
maybe of interest but here is a link to a discussion i had on another forum, my name is "Guest" by the way cause i got banned

anyway a brief breakdown DEEP BLUE watches very early on sold a rebadged JIUTSO dive watch the same as below and DEEP BLUE got a bit upset when this got pointed out

http://www.thewatchforum.co.uk/index.php?/topic/97127-deep-blue-welcome/&page=2&tab=comments#comment-983466
and the original JIUTSO one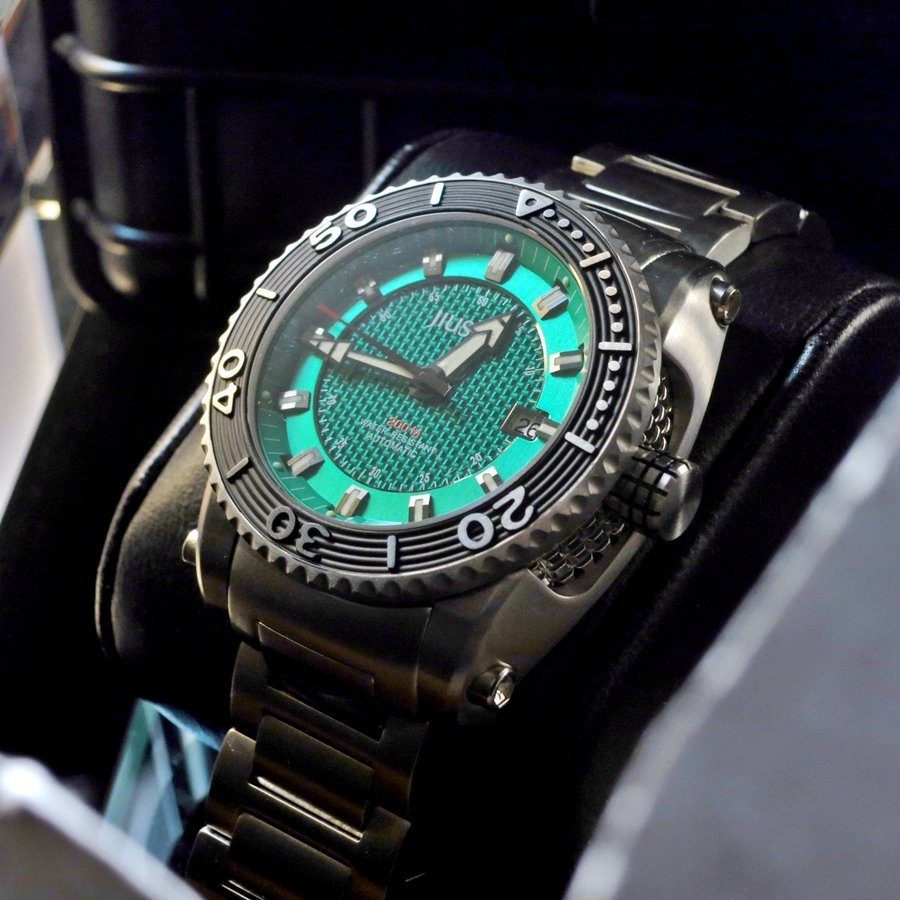 in case you were wondering JIUTSO were first

but back to my watch, its is honestly lovely build quality, the case and bracelet is a mixture of Stainless Steel and Titanium, the bezel, pushers, crown and clasp are stainless and the rest is Ti and what you end up with is a watch that is not too heavy or too light IMO.
The watch comes in a water proof Peli type box with the papers in a leather wallet and a JIUSKO cleaning cloth
the chronograph center seconds runs at 1/5th second intervals, subdial at 12 is minutes, subdial at 3 is 24hrs and subdial at 6 is running seconds.
so a bit of a mixture this brand: Made in China from Japanese parts and built and designed by Swiss trained Asian watch makers...could it be the best of all worlds?
here's some pics........