the Seiko Samurai not only come in various colours like Pepsi,, all blue, bracelet or rubber strap etc, they also come from 3 sources/factories
i have bought the black version with the model number SRPB51J1, but there is also the SRPB51J  and the SRPB51
the SRPB51 is most likely 100% Chinese, but may come from Kuala Lumpur [ some Seiko's have the "k" designation for Kuala Lumpur , this one doesnt ]
the SRPB51J is also most likely Chinese made, but includes a Japanese made 4R35 movement so a little step up from the previous
mine is the SRPB51J1 and is 100% Japanese from the case and bracelet and movement.
Seiko will say where the watch is manufactured has no bearing on quality, but having seen to many "K" and "J"  marked Seiko's over the years i would dispute this, yes the factories will manufacture to Seiko spec, but this may be to maximum Seiko can produce in either Chinese or Malaysian factories, these watches will be without doubt excellent time pieces, but i dont believe you can beat the work ethos of the Japanese and as such "Made in Japan" will always carry a premium......IMHHO

SRPB51
SRPB51J
SRPB51J1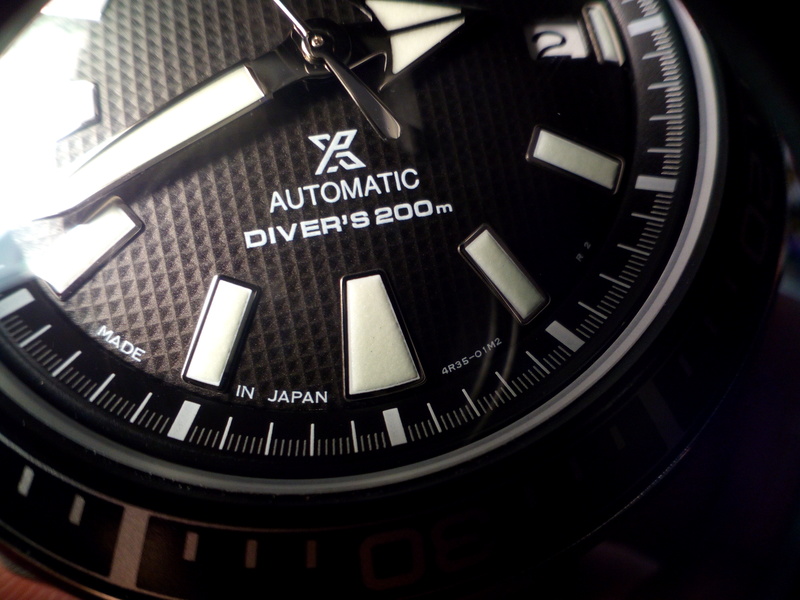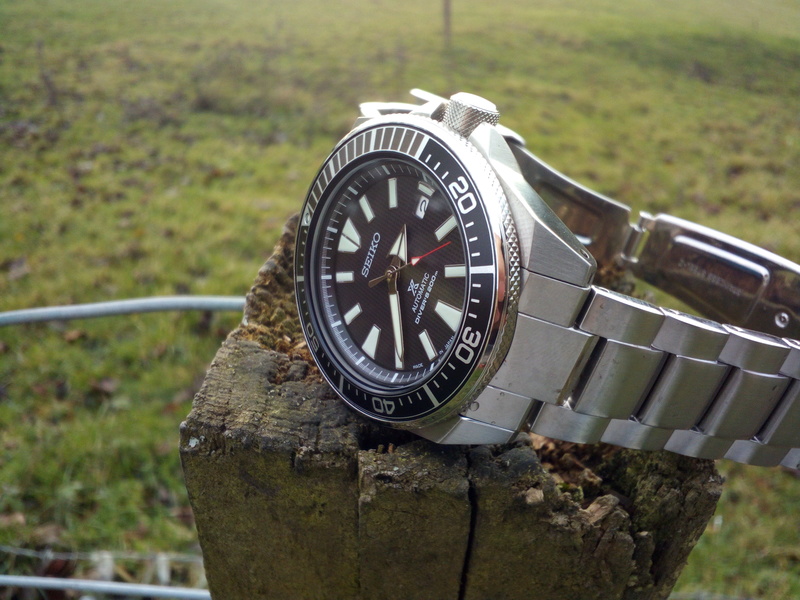 day time lume
Spec:
Made In Japan
Stainless Steel Case
Stainless Steel Bracelet
Automatic Movement
Caliber: 4R35
23 Jewels
Reinforced Mineral Crystal
Black Textured Dial
Analog Display
Luminous Hands And Markers
Date Display
Unidirectional Rotating Bezel
Deployment Clasp
200M Water Resistance
Approximate Case Diameter: 43.8mm
Approximate Case Thickness: 13mm
the size and build of the Samurai reminds me very much of the Seiko Sumo which i have owned, the big difference being the Samurai case shape and style, being very angular it looks tougher than the Sumo ever did, i always felt the Sumo was too dressy to be a diver/tool watch although it was stunning, i was always nervous of bashing the beautifully polished case so i sold it, i have no such worries with the Samurai as all surfaces have a brushed finish, the other difference is the movement, the Sumo runs the 6R15, the Samurai runs the 4R35, apart from the 6r15 having 24 jewels and the 4R35 23 jewels, the movements are identical in appearance and run at the same beat, the only real differences is the main spring and balance springs, the 6r15 has a different alloy in the main spring providing a longer power reserve and the balance spring also is made from a different alloy which provides slightly [ minuscule ] better accuracy than the 4R35, in reality the differences are so small they hardly warrant the £100 dearer price tag.
IMO the Samurai is a perfect Tool watch, it looks great with the waffle effect dial, the hands are very easy to see making reading the time easy with just a glance, the case is smart and interesting, the bezel is the usual quality 120 click which is smooth silky and positive, the bracelet is nice quality with a the usual dive extension.
i should also point out that this is the re release, the first Samurai has screws on the case side that served no purpose and the dial never showed the Prospex logo
all in all i am very happy with my early Christmas present to myself

Last edited by domecurb on Sun Dec 03 2017, 16:50; edited 1 time in total